We often hear that size matters when it comes to sex. Does having a smaller penis that big of a deal when it comes to achieving sexual satisfaction? 
Masculinity is always associated with penis size in a world surrounded by myth and penis-enlargement advertisements. This issue can get men fixated on the size of their penis that raises unnecessary anxiety.
In reality, the penis is not the only and best way to satisfy a woman. Creativity and willingness to experiment is the key. So even if not endowed with a bigger size, you can still uncover moves and strategies that will surely satisfy your partner.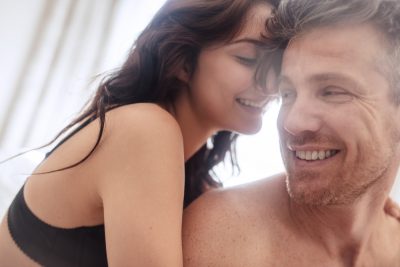 Factors Affecting Sexual Pleasure
Sexual satisfaction is an essential component related to the quality of sex life. One factor in sexual achieving pleasure is communication. It is perceived to be crucial in achieving satisfaction because communication addresses unrealistic expectations that the media often portrays.
Even casual sex partners should work on ways that build a greater connection between them. Communication is crucial because assertive partners tend to have higher levels of orgasm compared to the non-assertive ones. 
Relationships are generally built on exchange and offer both emotional and physical rewards. Make sure that neither partner is getting too much or too little through proper communication. Being affectionate in non-verbal ways is also likely to be associated with sexual satisfaction. 
Penis size is also a common factor in masculine stereotyping. This stereotyping makes men seek penis-size effective and safe enhancement supplements such as Male Ultracore to satisfy women. These supplements make a man perform better in bed because of achieving a better sex drive and bigger penile erection. 
Sexual Positions to Make Your Partner Reach Maximum Satisfaction
Deep penetration positions are best suited for men on the smaller side. Let us take a look at some of these positions.
Butterfly
How to do it: 
With the woman lying on the edge of the bed or a table, you stand in between her feet. Raise her hips with your hands, crouch down and penetrate her slowly. Lift her legs, one at a time, and gently rest her ankles on your shoulders. Move her hips a few inches up and help support her hips. Raising her hips by putting a pillow underneath for a better angle, tighter fit, and effective thrusting.
This position creates deep stimulation and gives a delightful angle for vaginal stimulation. This position will feel great for both partners and is best for bringing a woman to orgasm. 
Tight Rear Entry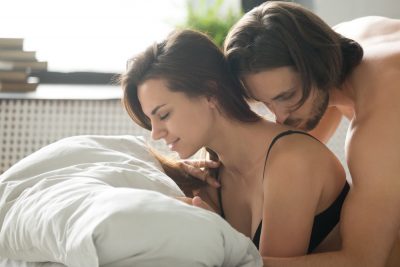 How to do it:
In the traditional rear entry or dog-style, the man's legs are in between the woman's. For variation, you will spread your legs apart and rested outside the woman's legs. Her legs are kept together for more intense penetration.
This position will create a tighter fit and deeper stimulation as well. Experts recommend this rear-entry position as it enhances friction and sensation and is the perfect angle for clitoral stimulation. Having the woman squeeze her legs together can make this position pleasurable to both partners. It is an ideal position for men with smaller-sized penises because it allows him to make her partner reach her G-spot.
Extended Foreplay
How to do it:
Try to touch her clitoris and use a finger, your mouth, or even a toy on it. 
Lots of women enjoy oral sex, manual stimulation, and fingering as a form of foreplay. This part of the activity will make sex more enjoyable for women no matter what position the partners will both decide to try. Foreplay not only builds arousal but also allows intense orgasms. Engaging in extensive foreplay will also help take the pressure of sexual penetration itself. 
Sofa Side Saddle
How to do it: 
Have the woman sit on the edge of a couch and let her lower her body onto your penis. This position allows for full penetration and makes unparalleled contact with the vaginal walls. 
Often, the key to intensified sex is deeper penetration. You may use this position to spice things up as you will be doing this on the sofa rather than the bed.
Missionary Anal
How to do it:
First, lubricate the woman's anus well. Engage in foreplay involving fingers. Lift her bottom, add a pillow, and maneuver together to find the right angle for penis insertion.
Since smaller penises mean less anal stretching, this position will be more comfortable for the woman.
Pile Driver
How to do it:
Have the woman lie on a carpeted floor, and have her swing her legs over to her head. Help lift her butt, squat on top of her and enter from above.
Reverse Cowgirl
How to do it:
Put a pillow underneath your butt and have the woman sits on top of you facing towards your feet. 
With the woman on top, she can control every movement and her pleasure as well. 
High Dive
How to do it:
Lay on the bed with your hips and legs but have your torso bending back off. The woman climbs in a cowgirl position that forces your hips forward for deeper penetration. Make sure that your penis is erect before engaging in this activity as blood is flowing away from your penis.
When you are having intercourse with someone new, you have to find the best and right positions for both of you. The fun part is experimenting and exploring the best sexual positions for you and your partner. If your partner wants deep penetration, bring toys into the act will deliver high pleasure if you are on the smaller side.