In some cases, bigger is always better. But when it comes to the penis, it is not always about the size. Size doesn't have to be picked over skill when it comes to sexual activities as sex is not always about penetration.
With that in mind, if you have a smaller penis and you want to make more of what you have, several sex positions allow for deeper penetrations.
For Penis-in-Vagina sex
Your sex position can make all the difference if you are after getting deeper penetration. It is also important to note that the vagina contains a smaller amount of nerve endings when compared to the clitoris, which is why going deeper should not be your only target.
The following are some positions that will help you achieve a deeper level of pleasure. It consists of positions for all comfort and skill levels.
Doggy style
Doggy style is a very common sex position that has been used for a long time because it provides you with deeper penetration and a sexy view. The female partner gets down on all fours while the male partner kneels and enters from behind.
If you want a deeper penetration, try letting your female partner lower her head and chest down onto the bed and, at the same time, arch her back.
One leg up
This sex position removes all distractions from the legs, which would ensure that you and your partner get maximum pleasure by providing easy access to the clit.
To do this, your female partner has to lie on her back and drape one leg over your shoulder. Then, you straddle the other leg and enter her. Sometimes bringing up the vagina allows for easier penetration, you can place a pillow under the hips to help with this.
Vulva on top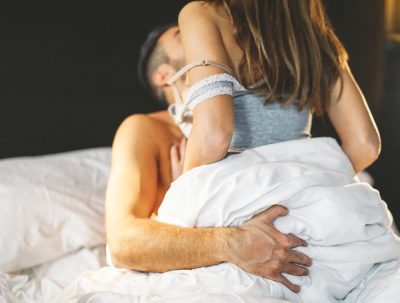 This sex position is also known as "cowgirl." It starts with you lying on your back, while your female partner climbs on facing you.
This is the sex position known to allow for the deepest penetration. Your female partner would also make sure that the penis stays in during the whole ride by using a side-to-side or grinding motion.
You can as well try to grind as much as you can to show the clit some simultaneous love.
Pile driver
This is an advanced sex position that requires a blanket on the floor and some serious flexibility.
To start, your partner raises their legs up and back over their head, making sure they get their feet as close to the ground as possible. Then, you squat over the top and enter them, using squats to thrust in and out.
The angle created by this position has been found to offer major stimulation to the vagina, as that is where the G-spot is located.
Face to Face
This is a sex position that allows all your hottest parts touch in addition to some sexy eye contact and making out.
To begin, you sit on the end of a chair or bed; then your female partner straddles their lap for entry. Then, both of you wrap arms around each other and start grinding.
For Penis-in-anus sex
Anal sex and a smaller appendage is an ideal match. This is a delicate area that consists of highly sensitive nerve endings and very thin skin. If you are not adequately prepared, a smaller than an average penis can tear you a new one.
However, before you try these positions for anal sex, it is important that you use a lot of lube and go super slow.
Plank
This sex position is similar to the missionary; the difference is that the receiving partner is on their stomach. Then you get into a plank position over the top and penetrate them from behind.
This position is so amazing because the receiving partner's legs are extended and flat on the bed, which would ensure that the penis has a tight space to push into.
The tightness of the space would provide you with a lot of pleasure and also give your partner that superb full feeling.
Doggy style
Once again, this is a great sex position for deeper penetration. It is also by far the best sex position for anal penetration and perfect for beginners.
With your partner on all fours, you can properly and easily stimulate your partner's anus with a well-lubed finger before proceeding to kneel behind and insert your penis.
Missionary anal
This is widely referred to as a penis-in-vagina sex position, but it is also butt-friendly. You can stimulate the A-spot if you can get the angle right. Also, your partner can reach for the clit and play with it simultaneously.
To start, your partner lies on their back with their knees drawn towards their chest. You can also place a pillow underneath to raise the bottom higher. Then you position yourself over your partner, and both of you can move together to find the best angle for penetration.
Seesaw
This is an advanced sex position that allows the receiver to take control of the thrusting, which ensures they can take it as deep as they want. Then you sit on the bed with your legs extended and your hands behind you for support.
Your partner sits on their lap, facing you and places their hands behind you so that their hands rest on your leg.
Anal Pile Driver
This is precisely like the pile driver mentioned above for penis-in-vagina sex; the only difference is that the anus is being penetrated here.
It is practically the same thing as your partner lies on the flood and raises their leg up and over so that it's close to their head. Then you squat over the top and penetrate them, using squats to thrust in and out.
For oral or erogenous fun
Oral sex and erogenous fun should not be limited to foreplay only. They are worthy of the main event profile as they have orgasmic potential and versatility. These are some sex positions that are worth a try, regardless of your penis size.
Lay back and enjoy
Your partner just lies back with their legs apart and a pillow under their butt and enjoys the delightful feel and view. This position would allow you to penetrate well. It is also ideal for stimulations like fingering, handjobs, blow jobs, and rimming.
Butterball
This is a position where your partner lies on their back with their knees drawn back into their chest and resembles a turkey ready for premium basting. Then you can belly-down ahead of the spread so that you can easily tongue the clit.
Doggy style
Just as expected, the doggy style makes the list again. Your partner gets on all fours, and you behind have it all in your face and prepped for rimming or cunnilingus.
It is also possible to give some BJ in this position; place a pillow between their legs to get you closer by propping up your head.
Open wide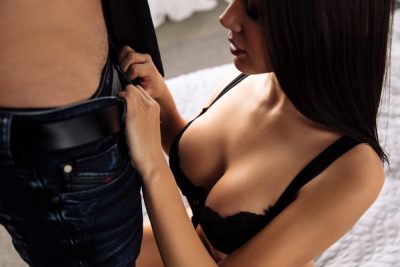 This position is normally given to someone with a penis, but with a few tweaks, you could give it to a partner with a vagina too.
You lie on your bed with your neck at the edge and your head hanging back. Then your partner stands over you and places their genitals over your open mouth.
In your face
This position allows you to enter into a face-sitting zone. Some people love this position because of its kinky element, while others find it a bit claustrophobic.
You lie on your back and then have your partner straddle your face. Your partner could face forward for a penile or vaginal oral, or turn over for you to give an anal tongue lashing.
69
This is a position that provides equal pleasure to both partners, and some people hate it while others love it. You lie on your back while your partner climbs on, this would allow you and your partner to be up close with each other's genitals.
If you love anal play, then you should be on top to find the perfect angle for your partner. If you have enough muscle strength and great oral skills, you can try a standing 69.
Things to note if you are less endowed
There are indeed some women that go for size, but studies have shown that a more significant share of women don't usually mention size when talking about their best sexual experience.
These are some things to keep in mind if you are concerned about the size of your penis:
Do not compare yourself to others. Research has shown that over 85% of men overestimate the average size of a penis as they feel that everyone else has a bigger penis.
Try to be confident, as confidence is very sexy. Worrying so much about your penis size could ruin your sexual experience faster than having a smaller than average penis.
Work on your hip flexibility. Improving your hip flexibility would allow you to penetrate deeper and make you a master thruster. You can practice simple hip stretches to limber you up.