Girls are made of sugar, spice, and everything nice, while boys are made of snips and snails and puppy dogs' tails.
But what goes in an erection? Definitely more than meets the eye to borrow a line from Transformers.
Erections are incredible little marvels of science involving various complex systems that comprise the body. From the brain to the nervous to the circulatory systems, and then to the penis, erections arise from responses to things men perceive–or reflexively occur after a bit of stimulation.
Regardless of how your erections come about, the body always goes through a series of rather complex biochemical reactions.
Without going too granular on the specifics, the ultimate result of the erection process is that more blood rushes into penile tissue while reducing its outflow. This leads to the formation of the erection.
Any spanner in the works interfering in this process may lead to erectile dysfunction (ED) and its symptoms.
ED is caused by several physiological or psychological conditions, from hypertension to performance anxiety and a lot more.
Erectile dysfunction (ED) is the failure to achieve and keep an erection firm enough for sexual intercourse. Medical professionals officially diagnose ED when erection problems aren't caused by a particular medical condition.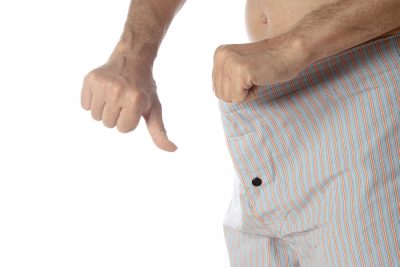 One of the biggest and most well-known risk factors for ED is aging.
Much of this is thought to come from the slow but gradual decline in testosterone levels. Furthermore, the risks arising from other underlying health conditions brought on by aging exacerbate erectile dysfunction, as do lifestyle choices such as smoking, alcohol consumption, or recreational drug use.
Determining the root cause of erectile dysfunction is paramount since ED may serve as an indicator of a more prominent underlying medical condition such as diabetes or cardiovascular disease, among a host of others.
Hypertension, low testosterone, prostate enlargement, and other medical conditions may cause erectile dysfunction. In other cases, ED may be due to side effects of some of the most prescribed medications in the United States (which do list ED as a potential side effect).
ED also has both physical and psychological factors, including depression and anxiety. It was shown in a 2018 study that depressed men have a nearly 40% likelihood of developing ED than men who do not struggle with depression. Worse, men with ED are nearly thrice likely to contract depression, creating a vicious cycle.
Getting tested
Consult your doctor if you experience signs of sexual dysfunction. Plenty of tests exists to help your doctor come to a conclusion about your ED and determine its cause.
Doctors will want to know your complete medical history to rule out pre-existing conditions or medications such as antidepressants, antihistamines, anti-hypertensives, diuretics, and painkillers like opiates, in particular. Hormonal medicines, chemotherapy, and treatments for Parkinson's disease may also cause ED.
Moreover, your doctor will ask about your sex life and history, as well as any recreational drug use or tobacco and alcohol consumption, all of which influence ED. A standardized test known as the International Index of Erectile Function may also be given to you.
After this, your doctor may already be able to diagnose ED and prescribe a particular course of treatment to take, such as medication, lifestyle changes, or supplements (testosterone boosters like Male UltraCore come to mind), or a combination thereof as necessary.
If your doctor determines that another underlying health condition is causing your erectile dysfunction, or if their recommended course of action isn't working at the moment, they may ask you to undergo more specific tests to further isolate the cause. Other screenings for mental health conditions like anxiety or depression may also be conducted, as with undergoing nocturnal penile tumescence (NPT) testing. The latter involves testing whether you achieve erections while asleep. Another test your doctor may ask you to conduct is the stamp test, where a ribbon of stamps is applied on the base of the penis before sleeping. Suppose the "circle" of stamps around the penile base remains intact (e.g., unbroken at the perforations of the stamps) by the morning. In that case, it means you did not achieve erections while sleeping. This implies that the cause is physical rather than psychological.
If symptoms persist, your doctor may run tests on your cardiovascular and neurological systems, apart from a battery of blood and urine tests to determine diabetes, hypertension, thyroid disorders, or low testosterone, among others.
A penile Doppler ultrasound test allows your doctor to determine physical causes, particularly relating to blood flow. This works by sending sound waves into the body that bounces off penile tissue to feed data to a sensor.
ED due to blood flow issues is an indicator of potential cardiovascular problems in the future. Men found with vascular abnormalities through ultrasound were thrice more likely to run into acute cardiovascular events in the future.
Treatment options for ED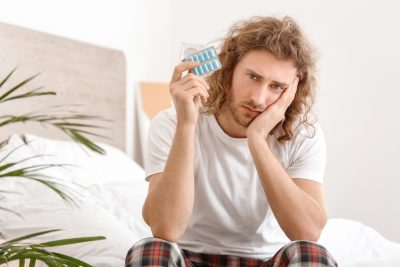 The good thing about erectile dysfunction remains a highly treatable condition.
Acute ED is generally treated with phosphodiesterase-type 5 (PDE5) inhibitors, a class of vasodilating medicines that work to boost blood flow to the penis to induce longer, fuller, and thicker erections. These include drugs such as sildenafil, tadalafil, vardenafil, and avanafil, better known as Viagra, Cialis, Levitra, and Stendra, respectively.
Apart from lifestyle changes aimed at improving cardiovascular health, supplements are also used to help promote better erections and testosterone.
Learn how natural, proven testosterone enhancement solutions like Male UltraCore can help boost your testosterone levels for better erections.
Male UltraCore is exclusively available online via its official website at www.MaleUltraCore.com.
If your doctor can determine the root cause and if treatment works, ED symptoms usually disappear. PDE-5 inhibitors mentioned earlier may also help with acute ED symptoms while the lifestyle changes take effect.
Other approaches for more severe conditions that don't respond to conventional treatments or for individuals unable to take them include ED medications self-administered intravenously or through suppositories inserted in the urethra. These contain drugs like alprostadil, which promotes muscle relaxation and better blood flow into the penis.
On the other hand, vacuum constriction devices work by pumping blood into the penis using a vacuum pump while preventing the outflow of blood through a ring placed around the base of the penis. One of the ultimate solutions for the most severe cases may be the introduction of a surgically-implanted prosthesis.
Erectile dysfunction is a sensitive health condition for many. Nevertheless, a meaningful discussion to be had with your doctor, especially if you are of a certain age. Always remember to look at the big picture–it's not just something with your penis, but rather something that could be bigger and more sinister than it may first seem.